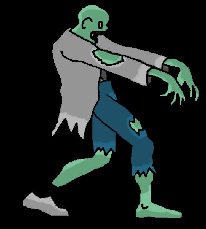 Looking for a zombie hunt, zombie walk, zombie meet, zombie paintball, zombiecon, zombiefest and other zombie events near you in Cleveland, Akron and northeastern Ohio? Scroll down this page and you will see the aall of thoses in Cleveland, Akron and northeastern Ohio, sorted by county. ALWAYS call before you go to confirm the info, they don't always report changes to me!
Zombie paintball, zombie walks, zombie-cons and other zombie-related fun are all fairly new, so they don't yet exist in all parts of each state. Help us find them; if you know of one we missed and want to add it or correct the information, please let me know! There are affiliate links on this page. Read our disclosure policy to learn more.
Updates for September 2021
September: Zombie Paintball is about to start at some cornmazes, pumpkin patches and farms. They usually start opening in mid August.
Zombie Events and Activity Listings
Click on Resources above, if you need a county map
Ashland County
Ashtabula County
Zombies on the Lake Paintball Annihilation - Zombie paintball, Hayrides, Other, Fire pits , restrooms, gift shop, concession stand (drinks, snacks and/or food), picnic area
4291 North Broadway, Geneva, OH 44041. Phone: (440) 812-7947. Open: Last full weekend of September to first weekend of November. Friday and Saturday nights from 7:00 pm till 11:30 pm. And Thursday Oct. 13th, 2016- 6:30 PM-11:00 PM. . Directions: See their website for directions. Payment: Cash, Debit cards, Visa/MasterCard, Discover, AmEx . Off of Interstate 90, exit Geneva Rt. 534. Head North. The facility will be about 7 miles north on the left hand side of the street. Participants will ride a paintball wagon through a trail and woods in which they will encounter Zombies. They will shoot the zombies. $20 ticket includes ride on Zombie Annihilation vehicle, paintball gun rental and 100 UV reactive paintball rounds. $5.00 for an extra 100 rounds. almost 1 mile long hayride through woods during which you shoot the Zombies (they do not shoot back). Awesome Fun for the Family . Venus is outside and runs rain or shine. Dress for the weather. Shooting Gallery (Target practice) for $5.00 per 100 rounds. Multiple Bonfires to keep warm and make it an evening out in the country. Click here for our Facebook page. (UPDATED: September 18, 2017) (ADDED: October 04, 2016, Suggested by a visitor)
A visitor writes on October 04, 2016: "TOTALLY AWESOME FAMILY FUN. LOTS OF LIVE ZOMBIES TO SHOOT AT AS YOU RIDE THROUGH THE WOODS. VERY COOL FOR THEIR FIRST YEAR. NOT TOO SCARY FOR THE YOUNG, BUT UNDER 12 SHOULD HAVE AN ADULT OR OLDER SIBLING WITH THEM. Enjoy a hot coffee, chocolate, hot dog or nachos as you enjoy one of the many semi-private bonfires to keep you warm. This is all very well done. "
A visitor writes on October 02, 2016: "The ride was a long ride with plenty of zombies to shoot from. Additional rounds of paintballs were available before and during the ride. "
Cuyahoga County
The Fear Experience - haunted house
10701 Brookpark Rd, Cleveland, Ohio. Phone: 216-245-3327. Email: Info@TheFearExperience.com. Be sure to call; I see paintball on their website, but nothing specific to zombie paintball this year.
Erie County
Geauga County
Huron County
Lake County
Regal Vineyards - zombie tag, haunted corn maze, pumpkin patch, corn maze, Horse drawn wagon rides, Jumping Pillow , Farm Animals, Corn Bin, food/concessions, Paintball Target Shooting, Straw Bale Maze, Corn Hole games, Corn Checkers/Tic Tac Toe, Campfires, Gift Shop, Farm Animal Train,
2678 County Line Rd, Madison, Ohio, OH 44057. Phone: (440) 812-4936. Email: hauntedwinery@gmail.com. Open: September 16, 2017 to October 28, 2017 Saturdays and Sundays, Also open on for school holiday, Saturday from 10am to 6pm and Sunday from 12pm to 6pm; Haunted Winery and Corn Maze 2017 Season, September 22, 2017 to October 28, 2017 Friday and Saturday nights 7pm to 11pm . Directions: Located just minutes off I-90 We are located less than 1/2 mile south of Route 20 and a mile north of Route 84 - the largest farm on the East side of Countyline - you can't miss us...We have over 27 activities for family fun and enjoying time on the farm this fall 8 acre corn maze Scavenger/trivia hunt in the maze, Rock Labyrinth, Corn Cannons, Duck Races, Farm Animals, Steer Roping, Hay Rides, Horse drawn wagon rides (on select dates), Farm Animals, Tired Spider / kids play area, Corn Bin, No Right Turn Maze, Pumpkin bowling, Concessions available, Grape Post Maze, u-pick pumpkins, Friendly Fire, Paintball Target Shooting, Little House on the Farm, Pumpkin painting, Pipe Crawl, Hillybilly Tic Tac Toe, Rope Race Maze, Straw Bale Maze, Corn Hole games, Corn Checkers/Tic Tac Toe, Campfires, Gift Shop, Farm Animal Train. Join the Zombie Outbreak Response Team, ZOMBIE TAG, $20 per person, ZOMBIE TAG with GRAND RIVER CELLARS. Dinner package. $28 per person - reservations required. Travel to the Regal Vineyards Farm and the Haunted Corn Maze where you will encounter a corn maze filled with zombies. Here you will need to complete your mission (gather tools to survive by checking in to 3 stations) Do this without being infected by the zombies seeking you out.... The Haunted Winery & Haunted Corn Maze. An original winery in the Ashtabula County area the Haunted Winery closed it's doors due to tragedies and horrors from within the walls and on the property of Regal Vineyards.... doors are open for you to walk thru this century home to discover and experience . Click here for a link to our Facebook page. (ADDED: September 9, 2017, JBS)
Lorain County
Mahoning County
Medina County
Mapleside Farms - zombie paintball, corn maze, pumpkins, pumpkin patch-pick in the field, pumpkin patch- already gathered from the field, child-sized haybale maze, prepicked produce, gift shop, snacks and refreshment stand, restrooms, horse-drawn hay rides, pony rides
294 Pearl Rd., Brunswick, OH 44212. Phone: 330-225-5577. Fax: 330-225-0665. Email: maplesidefarms@aol.com. Directions: Four miles from the Rte. 82 Strongsville exit on Interstate 71. And for a map to our farm, Click here. Open usually available in October. Open: The Farm Market & Bakery and Gift Shop are open Monday thru Thurs from 8 a.m. to 8 p.m, Friday & Saturday from 8 a.m. to 9 p.m. and Sunday from 8 a.m. to 7 p.m. The Apple Farm Restaurant serves lunch and dinner and Sunday Brunch Buffet The Candy Factory Corn maze is open Friday nights, Saturdays and Sundays from September 17 through October 30, 2005. Flashlight nights are every Friday and Saturday from dusk til 10 p.m. Payment: Cash, Check, Visa/MasterCard, Discover. Farm Market & Bakery, Gift Shop, Ice Cream Parlor, Restaurant, deli open year round.
Portage County
Fortress of Fear - Haunted houses, zombie paintball
10268 Hewins Road, Garretsville, Ohio 44231. Phone: 330-322-7853. Email: info@jmd-entertainment.com. Experience, ZOMBIE ABOMINATION, the NEWLY-ENHANCED attraction this season at the Fortress of Fear ScreamPark! Grab your weapon, man your station, and let the hunt begin
Stark County
Clay's Park Wicked Weekends - haunted houses, monster paintball, carnival rides
13190 Patterson Street NW, N. Lawrence, OH 44666. Phone: (330) 854-6691. Alternate phone: 800 860-4FUN.
Downtown Alliance ZOMBIEFEST - Zombiefest
Caboose stage, corner of Main Street and Mechanic Avenue, downtown Alliance, OH. Open: Saturday, October 21, 2017, Time: 3 pm to 6 pm. Trick o' trunk for children, activities, and chili cookoff.
(ADDED: September 7, 2017, JBS)
The Massillon Zombie Walk - zombie walk, peformances, vendors
Massillion OH. Open: October 14, 2017 from 5pm-10pm. No registration is required and the event is open to the public.Kids activities will be located inside the Massillon Museum beginning at 5:00 PM. Vendors will be found in Duncan Plaza as well as 1st Street from 5:00 PM - 10:00 PM.
Schedule:
5:00 PM Children's Activities Located on the Massillon Museum Lawn.
5:00 PM to 10:00 PM VENDORS located on First St. in front of the Massillon Museum,
6:00 PM "THRILLER" performance on 1st St SE by the Massillon Zombie Walk Dancers.
6:15 PM THE MASSILLON ZOMBIE WALK through the streets of Downtown Massillon.
7:00 PM "THRILLER" performance on the Massillon Public Library lawn by the Massillon Zombie Walk Dancers.
7:30 PM "THRILLER" performance with New Wave Nation on 1st St SE by the Massillon Zombie Walk Dancers. A Concert by New Wave Nation will immediately follow the 7:30 Thriller performance.
Zombies invade the streets of Massillon during the 10th anniversary of The Massillon Zombie Walk. The Walk returns Saturday, October 14th from 5:00 PM - 10:00 PM. Presented by Masonic Temple Clinton Lodge #47 F&AM, the annual event promises to be a lively celebration! No registration is required and the event is open to the public. The popular band will close out the night with their signature 1980's arena style experience. Local Vendors and Activities for Kids Local artists and vendors will have their work and products available for sale during the Zombie Walk. Not forgetting about the smallest zombie fans, the annual event with the support of the Massillon Public Library, will offer a variety of kids activities and crafts. Kids activities will be located inside the Massillon Museum beginning at 5:00 PM. Vendors will be found in Duncan Plaza as well as 1st Street from 5:00 PM - 10:00 PM.Vendors will be open until 10:00 PM.
Click here for a link to our Facebook page. (ADDED: September 7, 2017, JBS)


Trumbull County
Wayne County