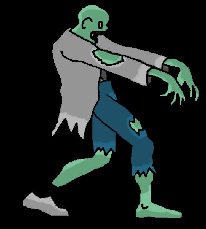 Looking for a zombie hunt, zombie walk, zombie meet, zombie paintball, zombiecon, zombiefest and other zombie events near you in Chicago and Northeastern Illinois? Scroll down this page and you will see the aall of thoses in Chicago and Northeastern Illinois, sorted by county. ALWAYS call before you go to confirm the info, they don't always report changes to me!
Zombie paintball, zombie walks, zombie-cons and other zombie-related fun are all fairly new, so they don't yet exist in all parts of each state. Help us find them; if you know of one we missed and want to add it or correct the information, please let me know! There are affiliate links on this page. Read our disclosure policy to learn more.
Updates for February 2023
February: Zombie Paintball is about to start at some cornmazes, pumpkin patches and farms. They usually start opening in mid August.
Zombie Events and Activity Listings
Click on Resources above, if you need a county map
Boone County
Cook County
Paintball Explosion - paintball
4866 Dempster St., Skokie, Illinois. Phone: (847) 426-2662. I don't see anything on their website about zombie paintball this year, so call to confirm!
Dekalb County
DuPage County
Ford County
Grundy County
Kane County
Kankakee County
Kendall County
Lake County
LaSalle County
Marshall County
McHenry County
Will County
Creepy Hollow Halloween Fun Park - zombie paintball
24405 S. LaGrange Road, Frankfort, IL. 708-532-6668. Open: September 27th thru October 26th on Saturdays & Sundays 11am - 6pm, (Columbus Day) Monday October 13th: 11am-6pm. Attractions: THE BLOOD SHED HAUNTED HOUSE - Venture thru the hallways of the Blood Shed Haunted House with 15,000 Sq. ft. & 18 rooms of Blood Curdling Horror! Can you survive The Bloody Meat Mart, The Zombie Attack, The Hallway to Hell, The Asylum and The Haunted Cemetery? All this and more wait for you in the Blood Shed.... Guaranteed to leave you Screaming! - TERROR TRAILS HAYRIDE & HAUNTED CORNFIELD - Take a ride into the Darkness of The Creepyhallow Trails... where you are dropped off at The Haunted Cornfield, and left alone to find your way out with The Creatures of the Night! They are all around you, can you take it? PAINTBALL ZOMBIE HUNT - You are seated on The Creepyhallow ZOMBIE HUNT RACK with your trusty Paintball Gun mounted in front of you!! As you ride into the city of the dead... ZOMBIES ARE EVERYWHERE looking to feast on human flesh!!! Shoot them as they attack or you may not survive the Zombie Invasion!! Interactive SCARYLAND AFTER DARK - This Nighttime Halloween Area with "push button" interactive animations, is really a big hit! Its fun, with that Scary edge... and "Get in the scene" photo opportunities. Stroll thru if you dare!!! The Scaryland Moon-lit Hayride recommended for ages 6 & up! ALL NEW Coffin Simulator Ride: Climb into the Coffin as you take your "Last Ride" and experience the actual sight, sounds and feelings of what it's like to be buried! You are seated on Creepy Hallow's customized zombie paintball trailer with your trusty paintball gun mounted in front of you! As you ride into the city of the dead... ZOMBIES ARE EVERYWHERE looking to feast on human flesh! Shoot them as they attack or you may not survive the creatures of the night. **Kid Friendly** **Zombies do not shoot back** (UPDATED: January 19, 2017, JBS)
Siegel's Cottonwood Farm - haunted house, zombie paintball, pumpkins, pumpkins for sale in the shop or farmstand, pumpkin patch-pick in the field, pumpkin patch- already gathered from the field, Fall festival, cow train rides, train rides, corn maze, kiddie (mini) corn maze, straw or hay bale maze, goat walk, we also have pie pumpkins, wagon rides, gift shop, concessions / refreshment stand, porta-potties, picnic area, Bounce house, pony rides, petting zoo, farm animals, birthday parties, school tours
17250 South Weber Road, Lockport, IL 60441. Phone: 815-741-2693. Alternate Phone: 815-741-2698. Email: kaity@siegelsfarm.com. Open: September through November on 7 days a week, from 10am to 6pm. Click here for current open hours, days and dates. Directions: Less than an hour anywhere in Chicagoland! Lots of FREE! parking. Located 5 miles south of I-55 on Weber Road (Exit 263) in Crest Hill. Located 5 miles north of Route 80 on Larkin Avenue, Exit 130, go 5 miles north. gps coordinates: latitude 52.075581 longitude 4.541513. Payment: Cash, Debit cards, Visa/MasterCard, Discover. The Siegel's have been farming this land for over 100 years. Siegel's Cottonwood Farm is a 4th generation working family farm. Each season there is a different way for you to enjoy visiting our farm and spending time out in the country air. (UPDATED: April 29, 2015, JBS) (UPDATED: August 16, 2012) (ADDED: April 17, 2011)
A visitor writes on August 11, 2014: "Siegel's Cottonwood farm has become a family tradition. We love to go to the farm, see the animals, have a smoked turkey leg, root beer and fresh apple pie. We have been going for 15 years now. Location is great. Parking is free and lots of parking. The staff is so friendly and helpful. We enjoy their produce and the gift store treasures. Our only complaint...it is not open 12 months of the year...but everyone needs downtime. "
A visitor writes on August 21, 2012: "This place us Awesome! I brought my Grand kids here last year and they had a blast all day. I love how they have an actually pumpkin field were the kids can learn where pumpkins are actually grown and pick them themselves. They also have so many attractions included in the admission which is great. I hate going somewhere having to pay admission but then have to pay for just about everything else that there. This is our new place to go every year in the fall. "
A visitor writes on September 26, 2010: "I visited Siegel's Cottonwood Farm for the first and only time in Fall 2009. I called first to ask about the corn maze. According to the website and a person on the phone they were open until 6:00. We got there at about 4:00 figuring that 2 hours should be plenty of time. After only 30 minutes in the maze an employ came in and asked us to leave as the maze closes an hour before the rest of the farm. The website should have said that...the woman on the phone could have told us...the woman who sold us the tickets should have told us...and the employee who let us into the maze definitely should have told us! One trip to the manager later, we were allowed back into the maze for another 20 minutes. We will go to a different maze from now on."
Settler's Pond Pumpkin Patch - Zombie paintball, pumpkin patch- harvested and laid out on the ground or lawn, straw or hay bale maze, cow train / barrel train rides, Zombie paintball, we also have pie pumpkins, tractor-pulled hay rides, Fall festival, gift shop, concessions / refreshment stand, porta-potties, picnic area, face painting, carnival rides, petting zoo, farm animals, birthday parties, school tours, group reservations
1301 Offner Road, Beecher, IL 60401. Phone: (708) 990-2780. Email: pinkyrolly@aol.com. Open: Open October 1st through the 31st from 11 am until 5pm. Directions: Click here for a map and directions. Carnival rides every Saturday and Sunday except the 31st October 10 and 17th Infield paintball. Payment: Cash, Check, Visa/MasterCard, Discover. 2020 Admission is $7 for children. $5 for adults. ILpchicago.php (UPDATED: September 22, 2020)
Statesville Haunted Prison - zombie paintball, haunted house
17250 S. Weber Road, Crest Hill, Il 60441. CAN YOU HANDLE THIS INTENSE ZOMBIE RIDE? Experience over a half-mile of TERROR as you shoot Zombie Slime Paintballs at real zombies and targets from an actual army troop carrier truck! Will you make it out alive?? ZOMBIE HUNT - 1 SHOTGUN, 12 PAINTBALLS AND ALL OF YOUR COURAGE: THAT'S ALL YOU GET AS YOU BLAST AWAY AT THE CHARGING ZOMBIE! Only $5 to test your postapocalyptic Zombie Hunting Skills at the exit of Statesville®. (UPDATED: October 1, 2015, JBS)
Odyssey Fun Farm - zombie paintball
19111 S. Oak Park Ave., Tinley Park, IL. Phone: 708-429-3800. Email: info@odysseyfunfarm.com. Open: Every Friday, Saturday and Sunday, September 26 - Nov. 1st, 7PM till 12MID (11pm on Sunday)! Odyssey Fun Farm will open its gates at NIGHT and take those who dare on a pitch black, narrow path winding through the cornfield to hunt for ZOMBIES! We will be closed on Tues Sept 30, Wed Oct 1, Tues Oct 7 and Wed Oct 8. We will open up especially for you if you have a group of 75 or more!Brave souls will board a highly equipt Safari Hay Ride outfitted with 20 Zombie Slaying paintball guns, mounted turret style. Once aboard, your fellow slayers and you will be ferried to the killing grounds via a tractor tow. Once in position, lights will come on and the Zombies will attack from all sides, trying to make your brains their next meal! Have no fear, as your trusty paintball gun will drop these Zombies right where they stand! The best part about this experience is the Zombies don't shoot back! Take the Safari Challenge if you dare...just make sure your aim is true and you have plenty of ammo! In 2014, prices are $22 for a Zombie Safari Hayride including 100 paintballs, unlimited compressed air and gun rental. Refills available for $5 for 100 extra paintballs. (UPDATED: September 23, 2015, JBS)